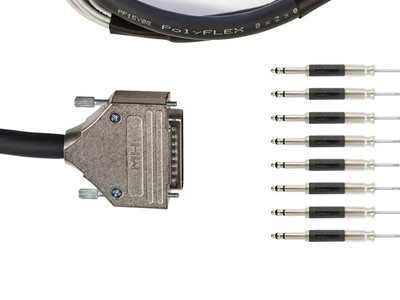 Click here to see similar items on eBay, and to buy.
HOMEABOUT USFEEDBACKVAT INFOPAYMENTCONTACT US Shop categoriesShop Home500 SeriesAmplifiersAncillary, Studio & BroadcastBundlesComponentsComputer Recording HardwareDJ EquipmentHardware Synths & SamplersHeadphonesLoudspeakers & MonitoringMicrophonesMixing ConsolesOutboardPercussion/DrumsRecording & PlaybackValves/Tubes Studiocare 2M Pro 8 Way Loom AES/EBU DB25 to XLR – New
www.stores.ebay.co.uk/studiocareprofessionalaudioProduct DetailsStudiocare 2M PRO 8 WAY LOOM AES/EBU DB25 TO XLRProfessional 2 meter DType to XLR (4 Female & 4 Male) Breakout loom made with Comus AES multicore cable and high density metal DB25 Connectors.
This loom will be wired to Tascam DB25 standard as default. If you have specific pinout requirements please contact our service department or call us for more information.Comus Multicore AES CableComus is an AES/EBU multicore suitable for analog and digital signal transmission, for outdoor, touring, studio and stage use.This digital audio multicore offers extremely compact dimensions by the use of thermoplastic elastomers (TPE) for the pair jackets with both outstanding electrical and mechanical characteristics. Our PUR version allows by its particularly tear-resistant and flexible outer jacket mobile use even under aggravating operating conditions.Brand: ComusConductor: Stranded copper wire 18×0.10mm=0.14mm AWG 26 bareInsulation: Foam-Skin PE (02YS)Twisting: 2 cores to a pair (8 pairs)Pair shield: Alu/PVC foil metal insideDrain wire : Stranded copper tin plated 7 x 0.16mm= 0.14mm2 AWG 26Sheath: PVC Jacket : Soft PVCColour : BlackDiameter: 13.00 mm + – 0.40mmConductor resistance: max 138Ohm/km at 20 degrees centigradeInsulation resistance: min 100MOhm x km at 20 degrees centigradeCapacitance : C/C approx 40pF/m @ 1kHzImpedence: approx 105 ohm @ 1MhzOperating voltage: max 50-75 V AC/DCTemperature range: -20 to + 70 CentigradeWeight: 0.184kg/m / 0.4057Lb/m NEUTRIK 'XX' SERIES XLR CONNECTORSThese cables are terminated with 8 Neutrik 'XX' Series XLR Connectors – The worldwide accepted standard of XLR cable connectors.4 x Neutrik Male XLR: NC3MXX-BAG featuring black shells and silver connectors.4 x Neutrik Female XLR: NC3FXX-BAG featuring black shells and silver connectors.
For more information please feel free to contact us on +44 (0)845 345 8910 or 0151 236 7800, or email your enquiry to sales@studiocare.com NoticesBuy It Now Prices
These include 20% VAT. Important: The VAT will be deducted from this price for non EU International bidders and EU bidders who are VAT registered.
Shipping Costs: For UK Mainland customers, shipping is included via courier unless otherwise stated. Customers outside the UK MAINLAND please contact us for a shipping quote.
Payment: See each auction for the available payment methods allowed and restrictions. We need to agree a payment method with you by phone or email within 5 working days. IT IS YOUR RESPONSIBILITY TO CONTACT US WITHIN THIS PERIOD. We need to receive full payment normally within 10 working days. If you buy an item and dont pay you will get negative feedback.
PayPal Instructions: The buyer must hold a VERIFIED PayPal account WITH a CONFIRMED ADDRESS or your payment will not be accepted.
Opening times: We are open from Monday to Friday 0930Hrs-1730Hrs GMT. If your auction closes outside these hours you may not receive email until the next working day.
All buyers need to use checkout and make sure you supply your name, address and telephone number.
If you are unclear about any of this information, please contact us prior to purchase.
Click here to buy, and to see similar items on eBay
---
Category: Sound and Vision:Home Audio and HiFi Separates:Other Home Audio
Location: Liverpool, Merseyside