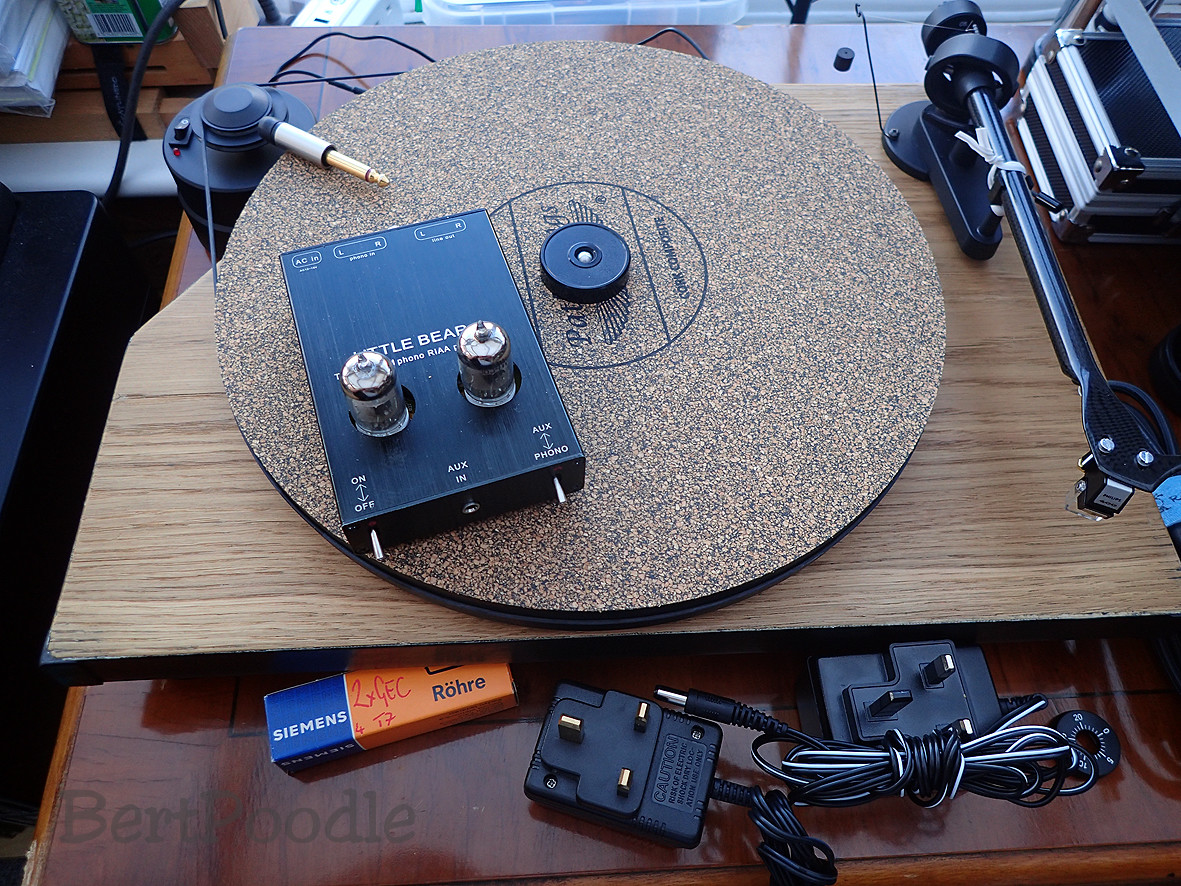 Click here to see similar items on eBay, and to buy.
Here are the specifications for this turntable-
Tonearm- Project Carbon Fibre 8.6 cc. Wired to phono socketson rear underside.Tonearm Interconnects- Audioquest RCA Phono cables x2.Turntable Platter- Revolver plastic/acrylic on original Revolverturntable bearing.Platter Mat- 1mm Pathe Wings cork compositeMotor- Pro-Ject RPM 1/3 Genie 16v AC with 33/45rpm pulleywith Pro-Ject 16vAC power supply.Drive Belt- A new revolver and a new Genie belt suppliedPlinth- Veneered laminated ply on Revolver feet, A3 sizePhono Stage- Little Bear T7 valve pre-amplifier with Siemens5654W valves plus a GEC spare set. This pre-amp has switchable phono/aux input. With an 18vAC power supplyCartridge- Phillips 400 (from a Goldring Lenco turntable)with brand new Japanese made elliptical stylus. Extras- 45rpm centre adapter, custom speed change tool. The design idea for this was to build a simple turntablewith an isolated drive motor with a belt drive around the platter perimeter asseen on Revolver, Michell and some Pro-Ject turntables. This turntable hasgiven me a lot of fun in designing and putting it together, and, making itplay.The tonearm is a Pro-Ject 8.6cc Carbon Fibre arm purchasednew for this turntable. This is a really attractive arm with performance asgood as its looks. The Phillips cartridge is a revelation. It was rescued froma Goldring turntable and a quality stylus ordered from TurntableNeedles.com. whileI was waiting for this to arrive I noticed that this cartridge was very similarto my Sumiko Pearl I was using on my direct drive turntable, closer examinationshowed it to be practically the same, so work that out. The sound is excellent,really detailed with plenty of oomphThe tone arm only has one weight, it should have two but only came with one.The Little Bear T7 Valve pre-amplifier is a truly excellent bitof kit. Fitted with Siemens valves, it will be supplied with a pair of GEC back-upsand its power supply. This is a nicely compact unit with the added extra of an Aux.input so you can get a valve sound from a CD or PC input if you wish. Thislittle pre-amp is for moving magnet cartridges only. The sound from this issuperb and this really punches above its weight.The turntable platter is recycled from a Revolver turntable.It is the sometimes described as an acrylic platter but seems really to beconstructed of a very dense reinforced type of ASB type plastic. This runs onits original bearing and is driven by a Pro-Ject motor as used on the Pro-JectGenie PRM 1 or 3 Carbon turntables. The Revolver platter is the same size as aGenie platter. These motors are really smooth and reliable and moving the beltbetween the upper and lower pulleys will give speeds of 33 and a third and 45rpm. I never bother with the speed change tool made by Pro-Ject, I use a standardJack Plug which will be supplied with this turntable. The motor and belt werepurchased new for this build along with the motor power supply. The turntable plinth is a sandwich of ply boards laminatedwith American Walnut (I think. looks great whatever) and has been edged with aplain black laminate with reinforced corners. The wood has not been varnished, simplyoiled with a finishing oil for a more natural look. The feet are recycledRevolver feet that resemble whopping great big rubber door stops.In addition, this will come with a 1mm Pathe Wings corkcomposite Tuning Mat for the platter and a 45rpm adapter. The photographs arepart of the description and show everything included.All can be extremely packaged for delivery althoughcollection in person would by far be the best way to ensure getting this toyour home undamaged.  I am in KetteringNorthamptonshire which is where the A14/A6 and A43 meet and only 15 mins fromthe M1/M6/A14 junction plus my address is extremely easy to find as long as youignore your sat-nav and follow my directions.The price reflects the time taken and cost of building thisand also takes into consideration the fact that I have had a few weeks pleasurelistening to it and the fun fine tuning it to make it work so perfectly. Thefull buy it now price includes next day delivery with best offers consideredfrom those who can collect.If you do buy this, you will not be disappointed.Thanks for looking.
Click here to buy, and to see similar items on eBay
---
Category: Sound and Vision:Home Audio and HiFi Separates:Record Players/Turntables
Location: Kettering