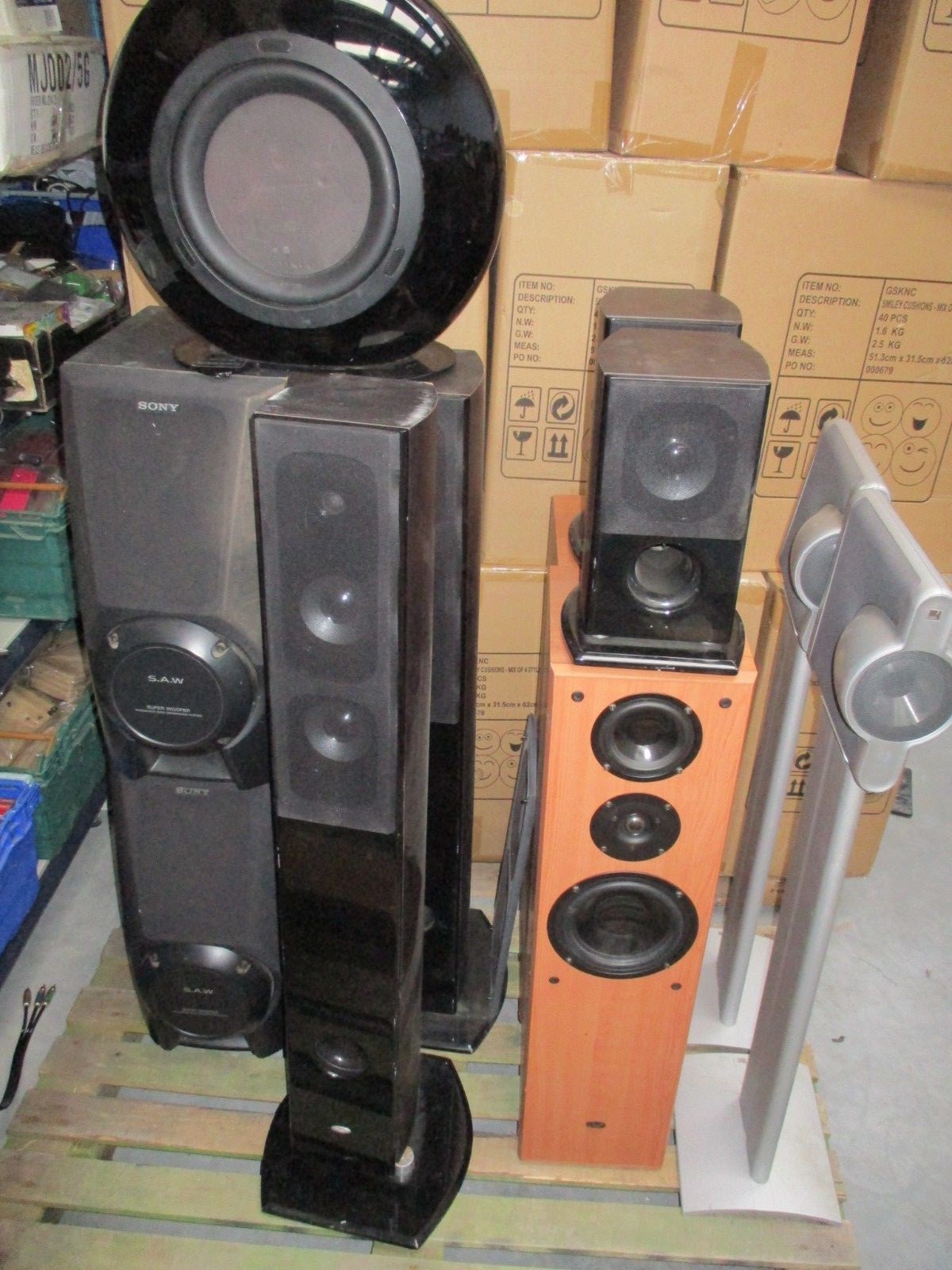 Click here to see similar items on eBay, and to buy.
Pallet of 50 Electronics Hi-fi/Speakers/Dvd players/Home Theatre,Stack Systems and more(Read the description)PLEASE READ THE FULL DESCRIPTION ABOUT A PALLET DELIVERY OR COLLECTION?Here we have  a great joblot of  HI-fi's,Stack separates,Dvd/Blu ray/Video players,Speakers of all sorts & sizes,Home Theatre items and lots more!!Please study the pictures this is the stock you will receiveI have plugged them in and get a power light but not tested so no guarantee that they work,so some might be spares or repairI will tell you what i know about all these but please be aware there are marks and scuffs on all of this and ive wiped them all with a dry cloth but would benefit from a good cleanOkay here's the list of what you get2 x Kef Brushed chrome stands & speakers3 Goodmans speakers GHC 4200 PRO2 x 3 way tall speakers in wood case (1 cover missing)2 x Goodmans tall speakers GHC 4200 PRO (1 base broken)1 x Large & heavy speaker modern not sure what make?2 x Very Tall Black Sony speakers (scruffy)2 x Sony black speakers2 x B & W black Speakers (Boxed)2 x B & W black surround sound speakers 1 x B & W black long speaker2 x Goodmans silver speakers1 x Volkand mini Bazooka1 x Panasonic silver Bi-wring system2 x Samsung small silver & wood speakers (Damaged)2 x Phillips speakers (Damage)1 x Roth black speaker & subwoofer
Phillips silver hi-fi stereo video recorder turbo drive1 x Cambridge black audio DVD player1 x Toshiba silver DVD player1 x Decca silver DVD player1 x Phillips black Blu ray player Model BDP 3200/051 x Ferguson silver DVD player1 x Kef silver Instant Theatre/DVD with lead1 x Phillips black stereo system FWM with remote full working order (was mine!!)1 x Aiwa mini system LCX 337 silver & blue CD/radio/tape full working order1 x Sony HCD-SP250 Tape.CD/Tuner powers up but CD not opening1 x Sony Hi-fi HCD-EC78P silver & black powers up but CD not opening1 x Pioneer separates black amps A-207R & AX 3201 x Panasonic Hi-fi SA-HD52 stereo synthesizer/tuner stereo amp/graphic equalizer/double tape deck1 x Sony separates TA-D707 black graphic equalizer/CD/Tuner/ some cracks on case powers up1 x Panasonic SA-CH74 black Tapes/Tuner/5 CD changer1 x Denon UD-M50 silver 3 CD changer1 x Shuttle DTS-HDMI XPC Glamor1 x Micro hi-fi FA-166 DAB 3 way sound/usb direct record Auto eq?1 x KEF silver Instant Theatre KIT 100PSW home entertainment system.marks on wood & front heavyAny questions please feel free to ask and i'll try my best to answer them for you
THERE IS NO BUY IT NOW PRICE,THE AUCTION WILL RUNPallet delivery cost will between 55 and 65 depending where you live,please contact me for a delivery price with your postcodeWill be delivered on a pallet only buy if you are able to receive a pallet on a lorry,collection is of course available from Poulton Ind est in Blackpool mornings tween 8am and 2pm or on a Sunday by appointment
Check out my other items for more Technics and other electrical bargains and joblots Postage is at cost,if you live in the Channel islands.Islands or the Highlands please contact me for a postage price before buying!! Collection is available from Blackpool 
Buy from me with confidence have a look at my excellent feedback from all of my satisfied customersPositive feedback will be left for you when i receive yours,if there is a problem be polite and contact meThanks for dropping by!!
Click here to buy, and to see similar items on eBay
---
Category: Sound and Vision:Home Audio and HiFi Separates:Speakers and Subwoofers
Location: blackpool, Lancashire