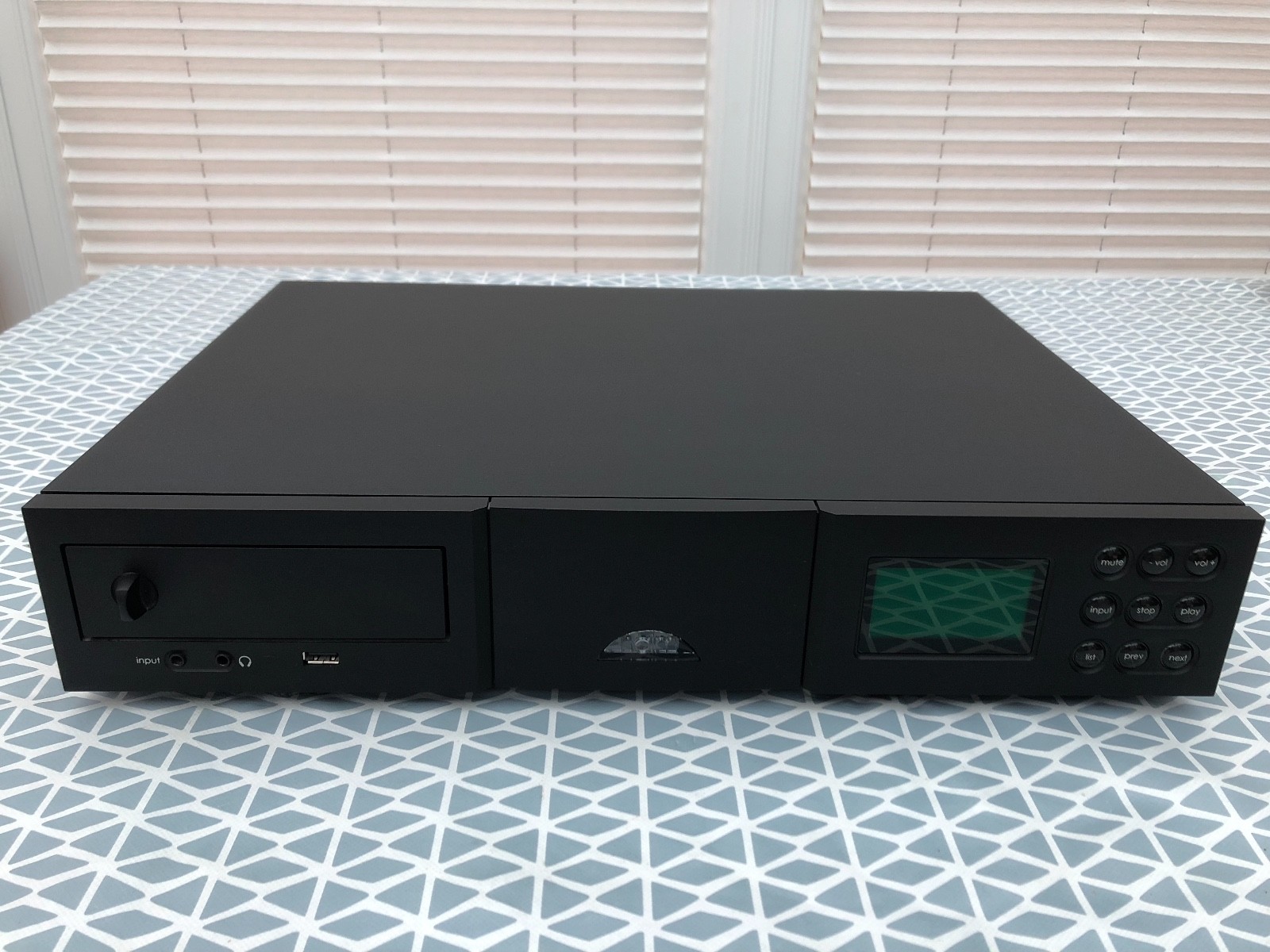 Click here to see similar items on eBay, and to buy.
NaimUniti
This is an outstanding example of the first generation Naim Uniti. It was one of the last manufactured (prior to the Uniti 2) and so benefits from 24bit/192kHz capability from new, therefore attracting the 'Hi-Def capable' description. This makes the item perfect if you have a hi-def download collection or if you intend streaming from the likes of Tidal or Quboz.
Condition is near perfect, I struggle to locate any scratches or marks.
The internal power amplifier has been used very little as I output from pre-out into monoblocs just six months after purchase.
Includes:
Naim UnitiPower cableCD transit bolt (this is fitted ready for transport)Remote controlSupplied Wi-Fi aerialHi powered Wi-Fi aerial (purchased separately)CD puckOriginal documentation (including all User Guides)Original box
Delivery is by Parcelforce to the UK at a cost of 20 plus full insurance of 55. NB I will not send this item without full insurance.
I am happy to have the item collected from Swindon, or possibly part drive, meet half way (60 miles total max.).
Manufacturers description:
Overview
The NaimUniti spawned an entire range of accessible and versatile music streaming systems that offer the kind of stunning sound quality previously thought possible only through separates.As well as being able to play UPnP streams at up to 24bit/192kHz resolution via a wired or wireless connection, NaimUniti incorporates a CD player, a 50W per channel amplifier, six digital inputs, built in Spotify Connect, native support for TIDAL lossless music streaming service, a DAB+/DAB/FM and internet radio tuner as well as a USB interface that enables playback from an iPod or high-resolution digital audio from a USB memory stick. Just add speakers.
FeaturesUPnP-enabled to allow streaming of audio files at up to 24bit/192kHz resolution from Naim Audio hard disk servers, network-attached storage (NAS) devices or any home computer.CD playback through unique Naim Audio radial arc disc tray.Integrated 50W per channel (into 8ohms) amplifier shares design DNA with iconic NAIT integrated amp.Supports a broad range of music formats: WAV, FLAC, Apple Lossless, AIFF, AAC, Windows Media-formatted files, Ogg Vorbis and MP3.Five 24bit/192kHz-capable digital inputs (S/PDIF) to support optimum connection to external sources.Five analogue inputs.Spotify Connect built-in to stream millions of songs from the worlds most popular streaming service.Native support for TIDAL streaming service.DAB+/DAB/FM radio module.vTuner 5* full-service internet radio.Multiroom & Party Mode compatible.iOS and Android Naim Audio app for intuitive control.
Technology & CraftNaimUniti has an analogue heart. Its NAIT 5si-derived integrated amplifier beats true to our long established design philosophies and is the foundation of the NaimUniti's audio quality.But in parallel with audio quality, it is the immense digital versatility of NaimUniti that sets it apart from any other all-in-one audio product. Alongside CD audio, FM and DAB radio, and internet radio streams at multiple bit rates, NaimUniti can play audio files in MP3, Windows Media-formatted content, AAC, Apple Lossless, FLAC and WAV formats. And thanks to an internal DAC with its five 24bit/192kHz-capable S/PDIF inputs, external digital audio sources, such as satellite TVs or games consoles, are a breeze for NaimUniti.Analogue audio connectivity is not forgotten either. Five analogue inputs can accommodate CD players or portable music players via rear panel phono sockets, a DIN phone input and a front-panel mini-jack. And a preamplifier output means that with the addition of an external power amplifier, or even a subwoofer, NaimUniti can become the heart of a very wide bandwidth audio system. And when you want to listen privately, a front panel headphone socket makes such selfishness all too easy.So as well as offering all-in-one functionality, NaimUniti is the perfect audio hub.
Product Specification
Audio InputsDigital (S/PDIF) 5 x S/PDIF:
   – 2 x coaxial RCA – up to 24bits/192kHz
   – 2 x optical TOSlink – up to 24bits/96kHz
   – 1 x front panel mini-TOSLINK – up to 24/96kHzAnalogue  1 x 4-pin DIN (includes +24V output ), 3 x RCA pair, 1 x front panel 3.5mm jack (combined optical)USB 1 x front panel Type A socket (also used for iPod)Input Sensitivity Rear: 275mV, Front: 125mVAntenna Wi-Fi (802.11 b/g or n at 2.4GHz), F type (plus PAL adapter) Other Spotify ConnectAudio OutputsDigital (S/PDIF) NoAnalogue Speaker output, line output (L + R RCA), sub output (2 mono outputs via RCA), preamp output (4-pin DIN)Power Output 50W per channel into 8, 90W per channel into 4Frequency Response 20Hz – 50kHz, +0.1/-0.5dBSignal-to-Noise Ratio 80dB A-WTD ref 1W 8Output Impedance 22 Load Impedance 10k minLine Output 1 x RCA pairSub Output 2 x RCA (mono)Headphone Output 1 x 3.5mm jackConnectivityRemote Control Infra Red (RC5)Remote Input 1 x rear panel 3.5mm jack (RC5 modulated and unmodulated)Remote Output No Updates 1 x USB Type Mini-BFormatsCD Formats Audio CD (Red Book, CD and CD-R)Audio Formats WAV (up to 24bit/192kHz)
AIFF (up to 24bit/192kHz)
FLAC (up to 24bit/192kHz) 
ALAC (up to 24bit/96kHz) 
WMA (up to 16bit/48kHz) must be WMA 9.2 
Ogg Vorbis (up to 16bit/48kHz) 
M4a (CBR and VBR up to 320kbit/s)
MP3 (CBR and VBR up to 320kbit/s)
Playlists (M3U, PLS)Internet Radio Provider vTuner 5* full serviceInternet Radio Formats Windows Media-formatted content, MP3, ACC, Ogg Vorbis streams and MMSMultiroom Master: Will stream WAV, FLAC and AIFF (up to 24bit/48kHz), ALAC (up to 16bit/44.1kHz), AAC and MP3 (up to 16bit/48kHz) files only as MP3 320kbps quality.DAB Tuning Range Band III and L BrandFM Tuning Range 87.5 – 108MHzAudio Formats WAV24/192
AIFF24/192
FLAC24/192
ALAC24/96
WMA16/48 WMA 9.2
Ogg Vorbis 16/48
M4aCBR VBR 320
MP3CBR VBR 320
M3UPLSUser ControlFront Panel Nine button matrixHandheld Remote handset included and optional Naim app for iOS and Android.PowerSupply Voltage 100V, 115V, 230V; 50 or 60 HzPower Consumption 400VA (max.)UpgradesAmplification External power amplifierOther Power-Line, WA5 antennaPhysicalDimensions (HxWxD) 87 x 432 x 314 mm Weight 11.7 kgSupplied with Uniti Remote Control
Click here to buy, and to see similar items on eBay
---
Category: Sound and Vision:Home Audio and HiFi Separates:HiFi Separates Systems/Combos
Location: Swindon