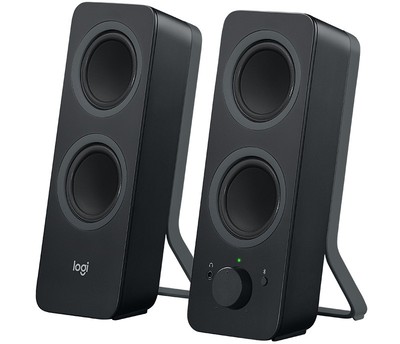 Click here to see similar items on eBay, and to buy.
Welcome to Our Official eBay StoreHomeNew ArrivalsEnding SoonSTORE LINKSPC ComponentsDesktop PCLaptopsMonitor & TVNetworkingStorageSalePC ComponentsDesktop PCLaptopsMonitor & TVNetworkingStorageSaleCategoriesPC ComponentsDesktop PCLaptopsMonitor & TVNetworkingStorageSaleConsumablesPeripheralsAudio VisualStore NewsletterAdd my Shop to your Favorites and receive my email newsletters about new items and special promotions! SubscribeSecure PaymentsWhy Choose Us!Logitech Z207 5W Black loudspeaker – 980-001296 DESCRIPTIONimages are for illustration purposes only, actual product may vary, contact us before purchase in case of any confusion. Z207 Bluetooth Computer Speakers, Black, RMS 5 W RICH STEREO SOUND AT YOUR DESK
Listen wirelessly from Bluetooth devices, such as your smartphone or tablet, and/or connect one device, such as your computer with a wired connection, seamlessly switching between the two to watch videos and listen to music.
VERSATILE SETUP
Stream audio wirelessly from up to two Bluetooth devices or connect one device via the 3.5mm input. The Logitech Easy-Switch technology lets you seamlessly switch between audio sourcesjust pause the audio on one and press play on the other.
RICH STEREO SOUND
5 Watts RMS/10 Watts Peak power delivers room-filling sound from the four-driver design; two drivers create the perfect balance between the mid and high tones while two passive radiators deliver bass.
EASY CONTROLS
Easily access the Bluetooth pairing button, power, volume and the headphone jack located on the right speaker. Product Serial Number is Always Noted Before Shipment.SpecificationLoudspeakersRecommended usagePCAudio output channels2.0 channelsAudioRMS rated power5 WPerformanceVolume controlRotaryTechnical detailsAirPlayNoColour of productBlackVolume controlRotaryPackage typeBoxDesignColour of productBlackPorts & interfacesAirPlayNoConnectivity technologyWirelessSpeaker interface type3.5mm/BluetoothWireless technologyBluetoothHeadphone connectivity3.5 mmPackaging dataPackage width125.6 mmPackage depth244 mmPackage height217 mmPackage weight1.31 kgFeaturesPackage typeBoxWeight & dimensionsPackage width125.6 mmPackage depth244 mmWidth90 mmPackage height217 mmDepth124 mmHeight241 mmWeight900 gPackage weight1.31 kgPackaging contentManualYesCables includedAudio (3.5mm)Other featuresPackage typeBoxAudio output channels2.0 channelsReturnsWe only offer a 28 Days return policy, if you have any problem after this please contact Manufacturer DIRECTLY. we do not take any responsibilty after this.For more details please see our Terms & Conditions.DeliveryAll items are dispatched with in 24 Working Hours and can take up to 5 working days to arrive. we also offer a next day delivery option for all our products for a Small Fees.Please Note we can not deliver on Weekends and Bank Holidays. Deivery Time stated above does not include Weekends and Bank Holidays.PaymentWe only Accept PayPal on eBay from Verified users only. for more payment options please give us a Call on 01274 800 808About UsWe are UK Based Online Retailers Since 2005. We Offer over 200000 Products and can ship all accross to EU. for more information please contact us.QUICK LINKSNew ArrivalsEnding SoonOur FeedbackAbout UsNewsletterSign up to our newsletter for special dealsSUBMITWe Accept OnlySmart Tech 786 Ltd Copyright © 2005 – 2018. All rights reserved.
Click here to buy, and to see similar items on eBay
---
Category: Sound and Vision:Home Audio and HiFi Separates:Speakers and Subwoofers
Location: Bradford, West Yorkshire