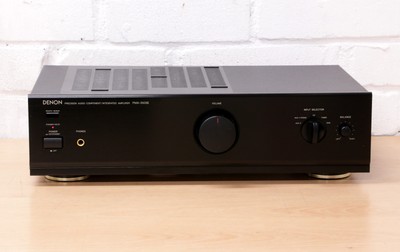 Click here to see similar items on eBay, and to buy.
You are looking at a DENONPMA-250 mark 3 integrated amplifier. Great quality full sized Hi-Fi separate amplifier fromDenon. It has a built in phono stage so you can listen to your Vinyl records. Features, Phono (MM), Aux, Tuner, CD & tapeinput/outputs. Also features headphone socket, defeatable bass, treble &balance controls. Proper Hi-Fi binding posts that accept bare speakers wireand 4mm banana speaker plugs.  Nice punchy clear sound, far better than a micro system!! 30 Watts RMS per channel into 8 ohms,50 Watts RMS per channel into 4 ohms. Its in great working order and in lovely cleancondition, 9.4 out of 10. Full service, all contacts including relay have beencleaned using DeOxit contact cleaner. Sounds better as a result. Measures 43.5cm w x 26cm d x 9.5cm h. Made in Japan. Please see my other auctions for all things Hi-Fi. 220- 240 volts 50 Hz. Thanks for looking. HAPPY BIDDING!!Shipping to RUSSIA will cost 74.10
This amplifier is rated at 9.4 out of 10
Appraisal report.
Some of the items i sell are nearly 30 years old however i will judge the itemsi sell based on a new bought item today, this is based on my opinion but i willbe as accurate as possible.
10 out of 10 Brand new un opened and sealed MINT immaculate
9.5 out of 10 Opened packaging but looks as new, X demo, unwanted gift,customer return Superb condition
9 out of 10 Very tidy, clean, no wear but slight polishing marks or one mark onitem. Packaging has some wear.
8.5 out of 10 Excellent however the lid perhaps has had a respray or a restoreditem such as new veneer on a loudspeaker
8.0 out of 10 Great condition, some very light wear, light scratches on the lidor wear to legends etc
7.5 out of 10 As above but perhaps a indicator or function is not working
7 out of 10 Good condition fully working but perhaps some light scratches onthe fascia and on the lid
6 out of 10 Average condition as dictated by EBay for a USED item. Some wearand tear, scratches and some marks fully working
5 out of 10 OK condition fully working, moderate marks and scratches all roundthe item.
4 out of 10 Fully working but in poor condition, lots of wear, marks andscratches.
3 out of 10 Not working but in good condition, worth repairing
2 out of 10 For spares or repairs, poor condition but could be made good.
1 out of 10 Scrap for parts only. Not working and very untidy
I can combine items to save on postage. Free up to25kg for the UK, 25 kg @ 30 for Europe (Spain, Italy, Germany, France) and forthe rest of the world it costs a little more depending on the weight.
Shipping to Northern Ireland and the channel islands will cost 15Greece, Canaries, Croatia, Ukraine, Turkey, Malta, Cyprus, Belarus allcost more than the standard EU postage rate as quoted by Ebay. Please ask for aquotation. Posting to Russia, South America, Canaries, Turkey can cost a lotmore with the possibility of incurring import duties and taxes which i will notbe held responsible for, the buyer must pay for these. Please check with yourcountries shipping quotas. I will request any return postage charges incurredare paid by the customer. Please ensure someone is home to sign for thedelivery. The couriers will only make 3 attempts to deliver, then goods arereturned to me at customers cost. If goods take longer than a week afterpayment then please get in touch i will chase it for you and provide you withan update. Please pay within 4 days of winning the item.
Please contact me as soon as possible if any problems occur, i will be morethan happy to help, even if it's help you need in getting your purchase up andrunning.
I do this because i love music and Hi-Fi audio products, i have a full time joband fit this around my free time, but i am always available. 
Click here to buy, and to see similar items on eBay
---
Category: Sound and Vision:Home Audio and HiFi Separates:Amplifiers and Pre-Amps
Location: Romsey