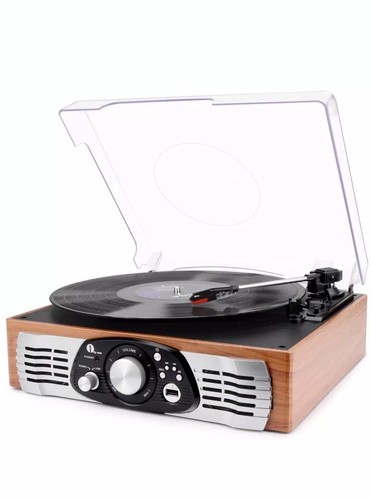 Click here to see similar items on eBay, and to buy.
1byone 3-Speed Stereo TurntableOur goal is to make a turntable whose styling and wooden finish harkens back to the turntables of the 1930s and 40s and whose belt-drive operation absorbs motor vibrations and noise. We have also integrated modern technology such as Vinyl-MP3 recording so you can take your classic albums with you anywhere, any time. Finally, connect your own home stereo system to the turntable using RCA line-out or listen using the integrated speakers.
Putting vinyl on turntables is more than just playing music; it's producing a unique physical and auditory connection to the classic eras of music past. With the 1byone 3-Speed Portable Turntable, we hope to make this vivid medium available to any and all wanting this extraordinary experience.
Replacement Stylus NeedleExtend the life of your turntable with a stylist that's completely replaceable. Simply unlock and pull the stylist cartridge out from the stylist head and push in a new one. Replacement stylists can be easily purchased through Amazon.
Vinyl-to-MP3 RecordingMany of us have large collections of vinyl but wish we could continue listening to our records when away from our turntable. With vinyl-to-MP3 recording, easily transform audio from vinyl records into MP3 format files for later playback on your mobile devices anywhere, any time.
Necessary EquipmentNeed a more organised way to store your favourite albums? 1byone Record Case is perfect for both storing and moving your record collection, with a sturdy yet elegant exterior and integrated handle for easy carrying.
DescriptionProduct DescriptionForm and Function A beautiful wooden finish and protective dust cover merge with a front panel that both harkens back to more vintage players and also provides users with convenient, easy-to-use controls.
A Great Record Player Selectable RPM speeds (33 / 45 / 78) and included 45-RPM adapter let you play all the vinyl records in your collection. Our Auto Stop function will automatically stop the record when the side is finished playing, meaning you no longer have to worry about being distracted and forgetting to manually stop the record.
Vinyl to MP3 Recording This feature allows vinyl to be recorded and stored as MP3 files. Simply place a favorite vinyl record on the turntable, insert a USB key, press record, and enjoy your vinyl music anywhere, anytime. Remember to use a USB no more than 32GB.
Front-Facing Full-Stereo Speakers Two 1.5-watt speakers have been tuned for excellent sound balance, and allow those without a stand-alone speaker system a turntable with a great built-in alternative. This turntable can also play MP3s using a USB key. For users with a great sound system at home, this turntable can be connected using the integrated RCA jacks.
Satisfaction Guaranteed Here at 1byone, we stand by our products 100%. This cable comes with a 12-month guarantee. If any issues arise, we will happily send a replacement on us. Satisfaction is our number one priority, at 1byone.
Please Note
In consideration of this turntable's complex manufacturing process, power to the built-in speaker has been limited to maintain the speaker's high-quality sound. Therefore, we suggest use of an external speaker for those wanting a better audio experience.Features & detailsGreat Styling – Beautiful wooden appearance, protective dust cover, and convenient front panel with playback controlsVinyl-to-MP3 Recording – Transform audio from vinyl records into MP3 format files for later playback on your computer and mobile devicesSelectable Speeds – 33 / 45 / 78 RPM speed settings with included 45-RPM adaptor so you can play every vinyl in your collectionFront-facing Stereo Speakers – Full-spectrum sound to properly listen to both your vinyl records and MP3s using a USB keyRCA Output – Easily connect your turntable to your own home sound systemProduct informationProduct Dimensions33 x 30 x 12.7 cmItem model number471UK-0003ColourNatural WoodMaterial TypenoAdditional InformationASIN: B01GJTOZ6UCustomer Reviews: 4.0 out of 5 stars 443ReviewsBest Sellers Rank: 139Shipping Weight: 2.9 kgDate First Available: 3 Jun 2016
Click here to buy, and to see similar items on eBay
---
Category: Sound and Vision:Home Audio and HiFi Separates:Record Players/Turntables
Location: Millport